New Year's Eve
It's an old story, and everyone knows it: New Year's Eve is shit. It's an institution, the shit NYE, as certain and predictable as the Queen's Speech, and about as fun. There are basically two things that you seem to be able to do on New Year's Eve
Go out and get plastered
Stay in and get plastered
It's almost as if culturally we have developed a defence mechanism against the awfulness of NYE, and that is to get blind drunk. Drunk so that we can enjoy ourselves in even the most awful situation, and blind drunk so that we can't even see how awful it is. Consider the typical situation when you go out: you go to a bar you probably wouldn't go to normally, pay, usually through the nose, just for the privilege of being in a position to buy overpriced drinks in a vastly overcrowded venue, and then proceed to imbibe at such a rate as to render yourself incapable of reminding yourself just what a fool you were for coming to this horrible dive in the first place. Come midnight you look around for some people to get hold of but even the taste of their mouths can't take away the bitter taste of predictable boredom in yours.
Staying in is just as much of a risk. Unless you have a select group of friends and can actually just enjoy each other's company and reflect on the occasion without regard for the expectations of it, you're stuffed. And even then, why aren't you having this cosy get-together on any other day of the year? Because on any other day of the year there isn't that absolute need to do something, so you don't feel the necessity to band together and defend yourself against the certainty of crushing disappointment should you go out. Staying in on NYE with friends is all about huddling together against the bleak inevitability of anticlimax and manning the psychological watchtowers to warn about impending washout.
So the only option that made any sense to George and I when we got together one evening in December was doing exactly what we would have done on any other Friday night, only with the added bonus that the one person we hadn't been able to share a Friday night with was in the country for a few days over Christmas and the New Year. He would definitely help make it a special occasion, NYE or not. Dave and I used to go clubbing in Japan, then George arrived and got into the scene, then I left and Dave and George went clubbing a lot, then George came back to England and he and I resumed operations. Now with Dave back, effectively for one night only, we were all set to kick ass and chew bubblegum. Except we were all out of gum.
So George, Dave and I hit up The End, a fairly small and nicely relaxed club near Tottenham Court Road for a night of house and twisted disco. We hooked up at mine first and prepped for the evening with some music, chat, a few tinnies and a special New Year's present from me to the guys, straight from Peru. A drink at the pub round the corner let us gauge our arrival to give us just enough time to get into the club, take a dump in the toilet (it's Dave's and my little ritual) and drop some sweeties down our necks before midnight. And they were selling Chupa-Chups in the toilet for a pound each. Everyone wins!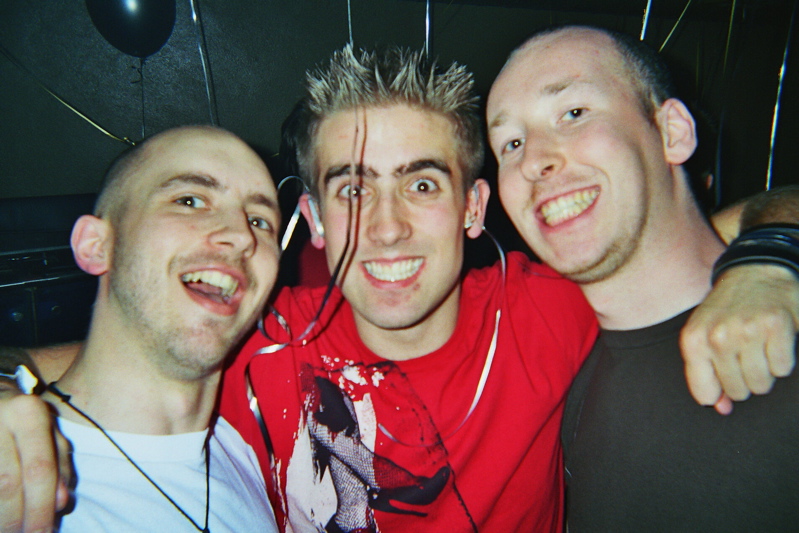 Happy New Year!
Midnight rolled around, and we danced a little up by the bar, waiting for the action to start. Sitting down at the tables we met a whole bunch of people and got a stick on the go. There were a couple of guys who seemed insanely grateful when I passed it on in their direction, as though no one had ever handed them a spliff in a club in their lives. It was so sweet, but I suspect the gratitude was chemically enhanced, as was my generosity. Dave, George and I focussed our attentions and got in with the girls. There was one, a little British Chinese girl (on the left, in my clutches) who was pretty cute in a dress which didn't even cover her very pert arse. It was nice just to look at, but then after I got up she literally bit me on my own arse, so that was obviously game on. I didn't see her until a fair while later, when Dave, mentally broken already, was asking her name. Having put enough down his throat and into his gums already to critically weaken his mind, and having just come back from Japan, when he found himself talking to an ethnic Chinese girl, he got confused. That night, Dave got very confused, very often. When she said her name was Jessica, he heard, "Sachiko," and that's what stuck.
Dave: "So, what's your name?"
Jessica: "Jessica."
Dave: "Where are you from in Japan?"
Jessica: "Ah ain't from Japan, Ahm from Landan!"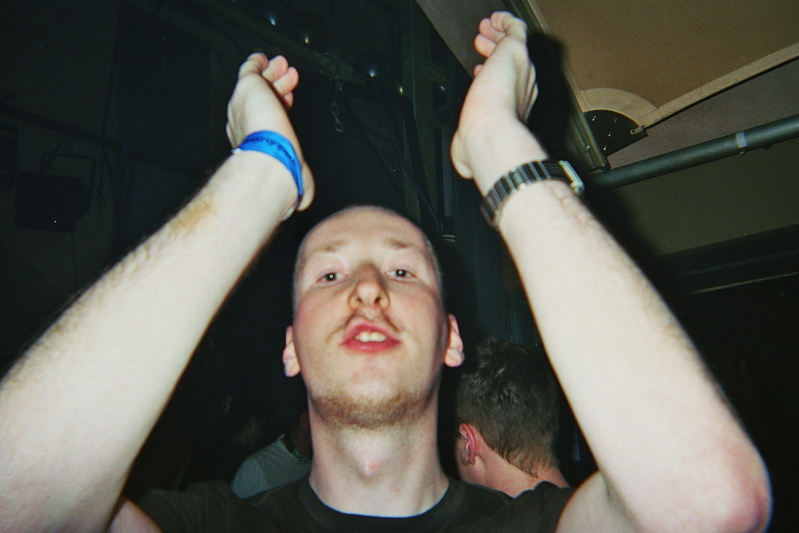 Simply Dave
later...
Dave: "What part of Japan are you from?"
Jessica: "Ah told you, Ahm from facking Landan innit!"

Well on the way already...
The sweeties worked. The studio fuel worked. The music was wicked. We danced for hours. The girl who bit me hove into view, which was lucky because if she'd left it much later I wouldn't have been able to see her. We danced. We bumped like dodgems and we ground like Starbucks: it was dirty, but for some reason we didn't kiss. I guess my mind was so firmly locked into the incredible sounds of Layo & Bushwacka on the decks that extraneous factors like hot women didn't even scratch the surface of my deteriorating consiousness. Every thought I had seemed to be in a race with the thoughts I'd already had as well as the ones yet to form, all trying to rush out of my head before I could even apprehend them. I found myself repeatedly performing unnecessary but familiar actions just to get a sense of control. So it was that I went back in to the toilets and passed Dave standing by the water cooler trying to work out what he should do. I gave him my bottle to fill up and bought 8 Chupa-Chups. It seemed like a good idea to spend 8 pounds on sweets.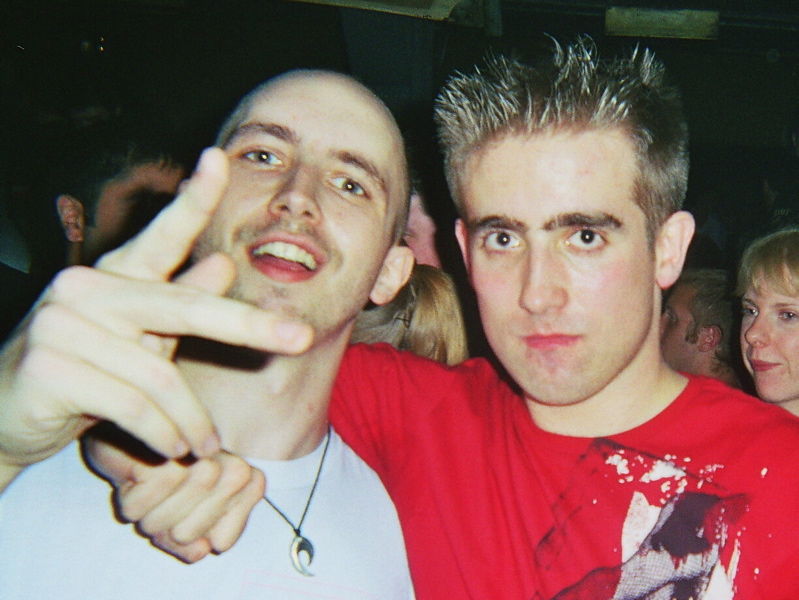 George and Nik - check G's fist: no muscle unclenched!
A few minutes later Dave handed me back a bottle of water that had about 2 teaspoons more water in it than I had left with him. He said it had taken ages to fill the bottle and he had got thirsty and drunk everyone's water and sorry but Happy New Year and wasn't this awesome! All riiiiight. I gave him a lollipop to show there were no hard feelings. I also used a lollipop to get Jessica's attention, which resulted in a good tonguing for a few hours. Nice, but I couldn't get it through my increasingly fragile head that she spoke English, so I barely said two words to her all night. I couldn't actually think of anything to say anyway - my mind was revving so fast I could hold on to a small part of a train of thought for about 2 seconds, as could George. Dave was out of the picture by now, his brain turned to jellied eels. Looking around I saw George dancing with Syl, Jessica's friend, chewing his gums off. I whacked a caramel Chupa-Chup in his mouth to get some saliva flowing and to stop him chewing, but he immediately crunched down on it and crushed it into spiky glue which locked his jaws shut! Dave and I met again in the slightly less hectic environment of the upper bar and he tried to explain what happened at the water cooler. He'd been standing there filling up the bottles when a guy came up and told him it would be faster to fill it from the basins in the toilets. This didn't sink in at first, but then he realised the sense and went in. Not wishing to mix drinks, he emptied all the water he had put in the bottles and then filled them up again. Then he drank it all.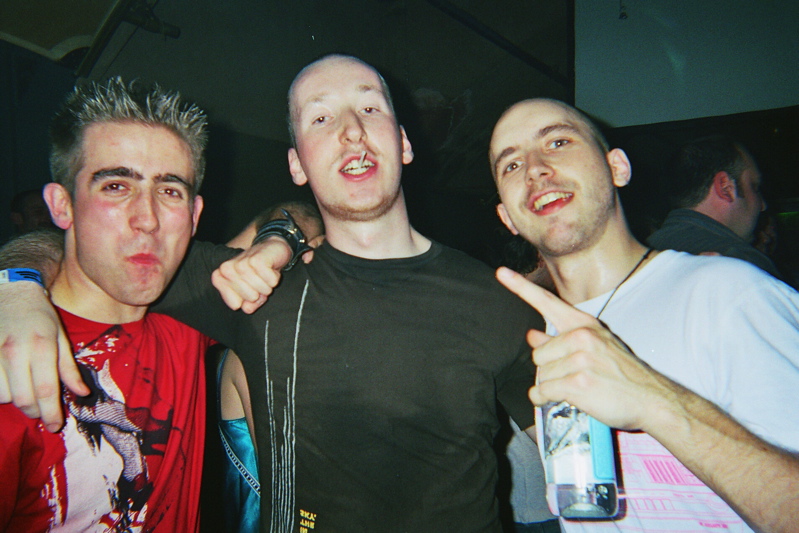 Nik, Dave and George, with locked jaws!
later...
Dave: "When are you going back to Japan?"
Jessica: "Fack awwwf!"

The pills we were doing were MDA - a slightly shorter lived high with less empathy but way more visual effects than MDMA, which was very cool: when I flicked my eyes, voluntarily or not, the club furniture, DJ booth, pillars etc stayed solid like in a strobe flash, but everyone's faces had massive motion blur. What's more, people's faces were covered in animal skin and in some cases were distorted to look like the animals too! One guy, who had a load of hair, had fur on his face, which had warped into a cat's. Everytime I saw him on the dancefloor, he looked like a Thundercat! It was very cool indeed, and not at all scary. I just looked at him and knew full well he didn't really look like Lion-O, but there he was. It was almost like he had gone to a lot of effort for the night, and this made me happy. Jessica had weird UV spots on her face, like alien freckles, despite there being no obvious UV in the club and her having typically pure east asian skin, and when I looked around at other people in the place, I saw all kinds of bizarre deformities, like finely patterned lizard skin, strangely pointed heads and more. It was really nice to see people changing their DNA for the night!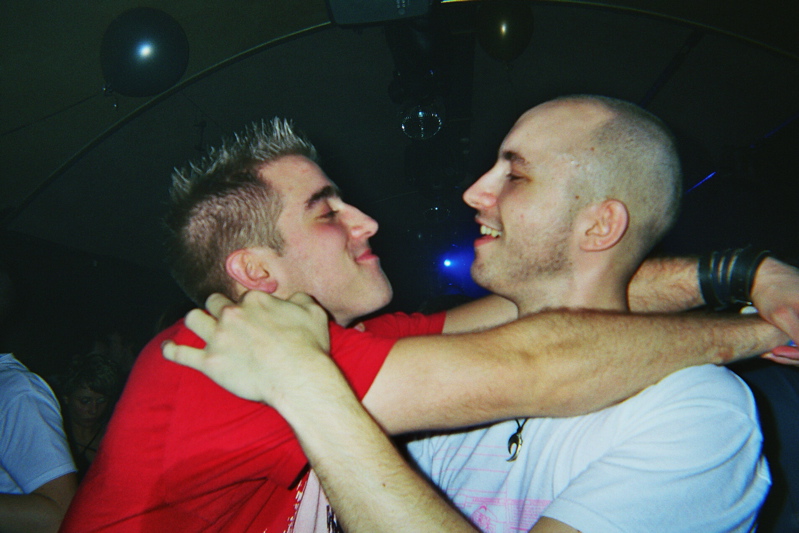 I wub you George! I wub you Nik!
But if you think I was struggling, Dave was proper fucked! I don't think he was prepared for the jump from 1 or maybe 2 Japanese pills to 7 English ones with a load of charlie. He was just there dancing, eyes slack with a lollipop hanging out of his mouth, so I went up to him, put my arm around him and asked him if he was OK. He didn't respond, so I stepped back and slapped him with both hands on his cheeks. He turned, grinned at me and gleefully pronounced, "I've lost my mind!" The light in his eyes went out and he returned to his previous position, oblivious. He told me later he had been running that line through his head over and over again, because someone had talked to him earlier but had wandered off before he could formulate a coherent reply. He thought if he just said that line to anyone who said anything to him it would explain everything!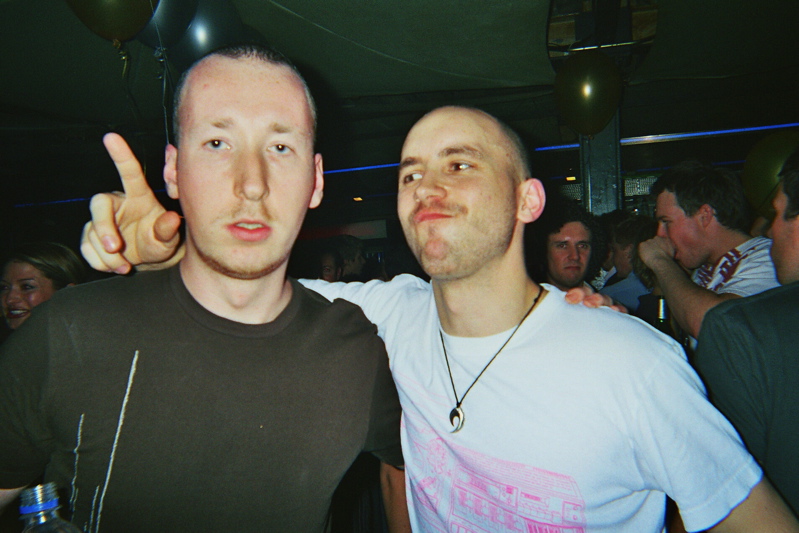 Dave wasn't responding, so Nik enjoyed his own finger instead!
As the night drove on relentlessly, I stuck with Jessica because I have to have someone to feel connected to. It doesn't really matter who, as long as they reciprocate. This is the one thing that is utterly predictable about me an pills: at some point I'll feel either an incredibly strong connection with someone or an intense emptiness where I want that connection to be, so everytime she was out of sight I started feeling this pulling in my chest to find out where she was and reconnect. However, as I mentioned before I had absolutely no comprehension that she could speak English. Maybe Dave had programmed this into me, or maybe I really was as broken as him. Anyway, as the end of The End approached, and with considerably more saliva than conversation having been exchanged, she seemed to be trying to build some rapport with me. Perhaps this was because she wanted to get to know me but knew she was going home to be the chillout host the friends she had come with rather than staying with me to look after my degrading mentality, or perhaps she was just interested in who she'd been snogging for the past 4 hours. In fact, I had asked her back to mine but she had said, cruelly bluntly, "How many pills have you had? 5? 6? You won't be able to do anything. It'll be dry and sore. I'm going home wiv my mates!" The funny thing was, I fancied her more after that. I guess you always want what you can't have, but it was also really attractive being with a girl who didn't fuck around with games and innuendo. All I wanted anyway was just to keep on kissing her forever, my mind stuck in a very short loop. Anyway, whatever her motive she was trying to ask me some questions, but I was so fucked I couldn't grasp that she was even asking me in English. I was too preoccupied with trying to connect with the parts of her head which weren't covered in freaky UV spots. In my mind I was thinking, "This is too much. I simply can't even try to explain it to you. It's way too difficult for you to understand in English, and I can't be arsed to put it into simple words." To be honest, I really doubt whether I could even have strung any kind of reply together.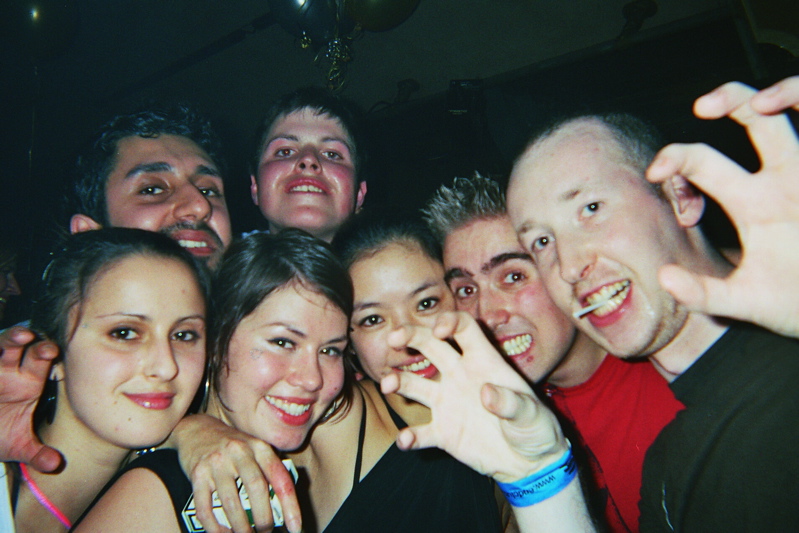 Raaaar!
George and Dave left, and I stayed behind pathetically trying to persuade the sympathetic girl to stay with me so I could hang to my empathy. I should have left with the guys. I have realised recently that the manner of your arrival at and departure from a club has a big effect on your mental state and your overall appreciation of the event. When you all arrive at a club at different times, it's very hard to get on the same wavelength until you're all battered, so I think it's important to meet up beforehand and go for a drink somewhere so you can all arrive together and you're all already enjoying each other's company. As for leaving, when George and Dave left, I suddenly felt very alone. It is really nice to leave the club together and, while still with your friends, slowly adapt to the sober daylight of the real world.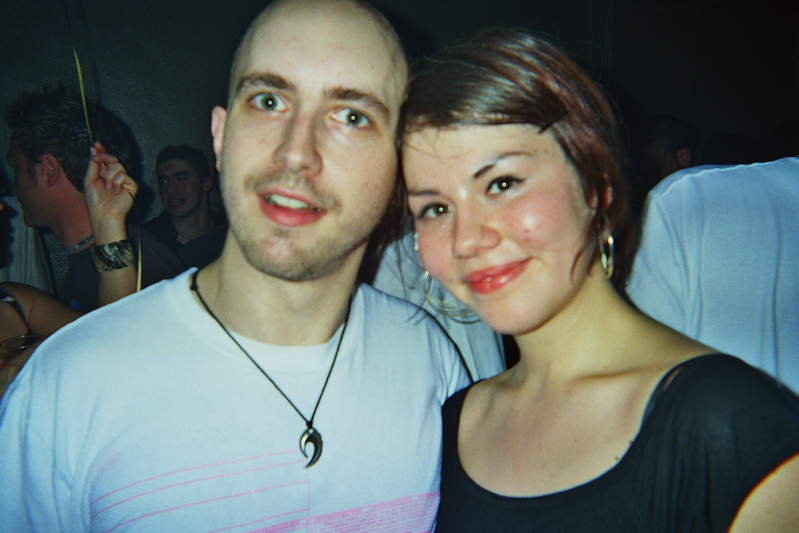 Goodbye Syl...
So we all said goodbye, she left, I left, got home, sent her some ill-advised texts and went to sleep. We'll see what comes of that, but what a rocking night! I haven't mentioned much about the music, but it was great. The atmosphere was great, the punters were lovely, the girl was sexy and fun and everything turned out sweet. George, Dave and I met up yesterday for debrief and burgers at the Gourmet Burger Kitchen in Battersea, where we discovered that we had all independently cried at films the previous day! George cried at Edward Scissorhands, Dave at Return of the Jedi, when Vader throws the Emperor down and me at Return of the King, during the battle scenes with the Rohirrim! Feeling a little fragile we were!
Update - 10 days afterwards: the comedown from this night was horrific. At first, we laughed at our little cry at the movies, but as time wore on nobody was getting any happier. Over a week of feeling flat and dull, a week of having all the joy in the world turned to ennui, all the colour drained and all the humour rewritten by Richard and Judy. This led to my first behavioural resolution of the year: don't do this again. It was a great night, but while it's OK when the comedown lasts a couple or even a few days, a week scraping the bottom of the barrel is too high a price to pay for any night out.
Posted by Oxygenik at January 4, 2005 3:12 PM