Santacon IV
Mad, bad and dangerous to go! The annual booze-up and mobile red and white carnival of craziness that is Santacon hit London last weekend, and what a weekend it was! With a loosely organised group of people dressed up as Father Christmas going in a huge posse from bar to event to bar, drinking, making merry, giving out presents, everyone is guaranteed a very merry Christmas!
One of the delights about Santacon is being in a huge group of identically dressed people, especially when the costume instills mirth and good humour in nearly everyone who sees it. Nevertheless, some Santas like to indulge themselves for a change, and riff on the basic theme somewhat. Or so I'm told - this was my first year, but I thought I'd try to do something myself. There were a variety of special Santas: Austin Powers Santa, Trance Santa, Bad Ass Santa, Speedy Santa, Kwik-Fit Santa, an elf (although we don't talk about the elf) and me, your very own Satan Claus, here guarding the world from the raw sexuality of Austin Powers Santa.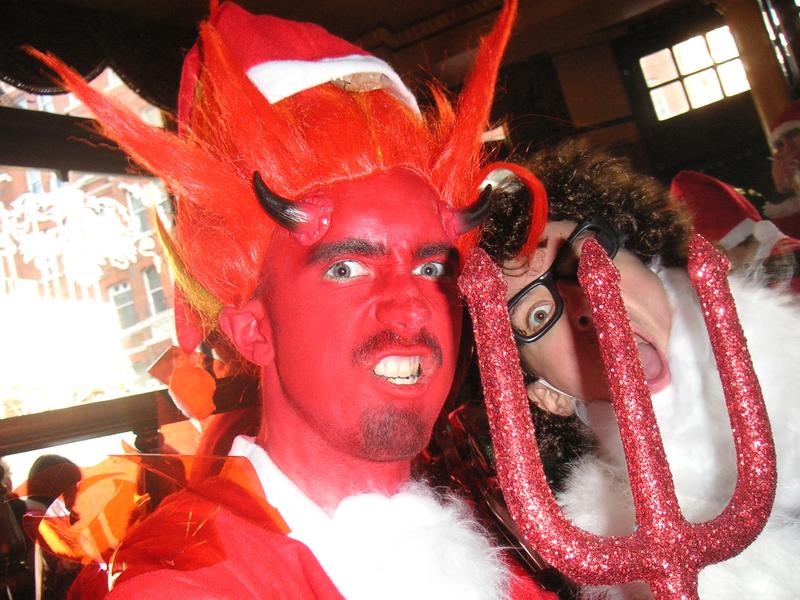 The crawl kicked off very conveniently for me at Wetherspoons in Victoria Station. There must have been 180 Santas and about 10 non-Santas in the pub. This guy didn't look too happy about being there, which was stange seeing how happy the horde of Santas were! From Victoria (6.3MB movie) we made our way along Victoria Street where the landlord of the pub was surprised to see us pile in through the door. Surprised and delighted when he saw how Santa likes to drink!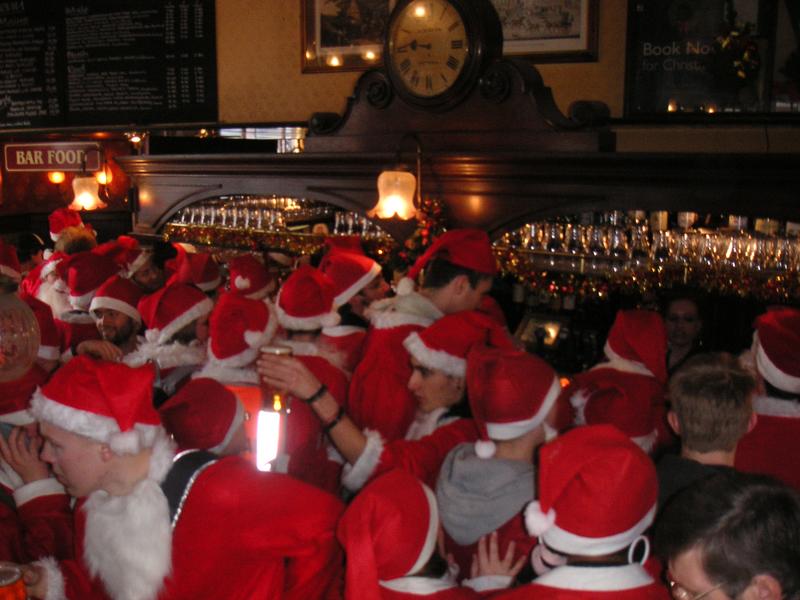 From there we went up to Parliament Square where we sang carols for the protesters. The police were pretty good humoured considering that by now ten score Santas were effectively blockading Parliament as well as blocking traffic. They even didn't seem to mind when some naughty Santas gave them wrapped coal and sprouts for presents! Santa sang and moved on to the South Bank, where there were plenty of amusements for the steadily increasingly inebriated Santa, such as dodgems and Dance Dance Revolution, here being played here by the very special Mod Santa, in purple wig and tights!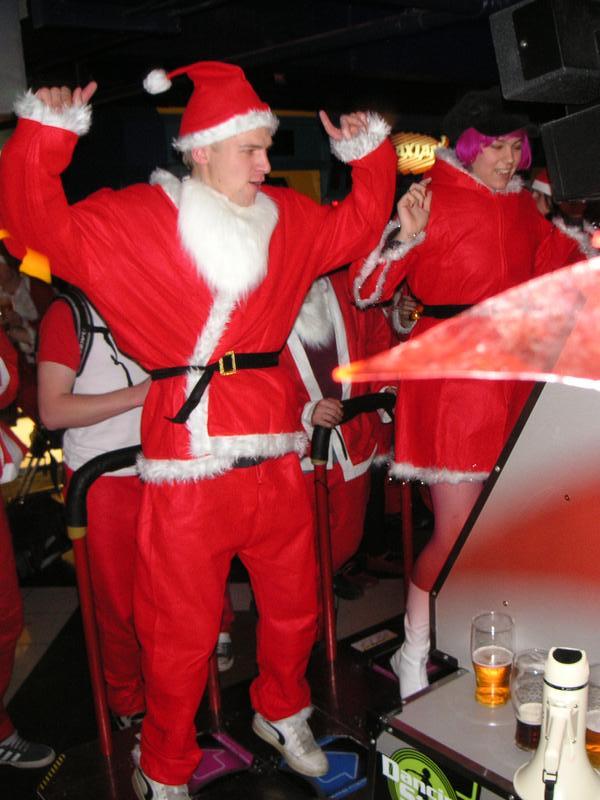 Santa was already exhibiting some of the inertia which can be expected when so many tired old Laplanders gather together in a place where alcohol is being sold and comfy seating is provided. However, a few judicious pokes of Satan's glittery hellfork were usually enough to make sure the indolent old codgers got back to the serious job of spreading merriment far and wide, or in this case as far as the Saatchi Gallery (1.6MB movie).
For Satan Claus it all got a bit confusing after that, and his camera ran out of juice cos his acolytes had it set to maximum resolution and even more incompetently had installed his smallest SD card. However, he does remember dimly lining up along Hungerford Bridge and a count of 235 deranged Santas being made! On the bridge Santa befriended an American saxophonist and we sang carols with accompaniment before filling her case with chocolate coins!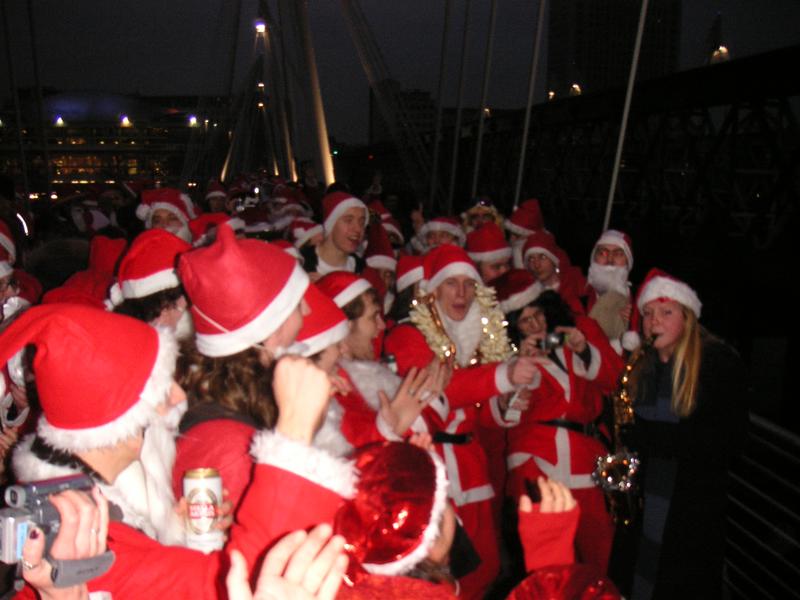 From Embankment it was a brief march up the road to Trafalgar Square, where massed ranks of Santa climbed the 1st three tiers of Nelson's Column and sang The 12 Drinks of Christmas to a gathering crowd of tourists and locals. A bit of splashing about in the freezing December fountains was followed by a tactically disorganised assault from the Strand to Holborn, via a couple of bars, a Soho sex shop and a Covent Garden phone box. Quite why I thought it would be a good idea to get in the bottom of a phone box when so much Santa was thinking about how to get in on top, I can't really be sure, but it was without doubt a bad idea. Satan realised his mistake when the fourth person to come in after him used his head to stand on.
By now so sloshed that the cricked neck was merely interesting, Satan found in the final stop of the evening, Parker Place in Holborn, that they seemed bizarrely prepared for an onslaught of twatted Santas. Satan was puzzled, but by this stage in the evening, after 10 hours drinking in the bars and on the streets of London, Satan was puzzled by many things. For example, why didn't anyone give Santa a present? Why was that famous Santa there every time I looked for him? What time was it? How much had I drunk? Who's the cute little Santa with the pigtails? Does this bar close? How do I have to pay to make stay...?
All that remains is to thank the organising Santas, especially Santa, Santa and Santa, not forgetting of course Santa, who had a lot of shit to deal with and managed it superbly. See you next year!
Posted by Oxygenik at
6:10 PM
|
Comments (0)